As part of the UK Collaboratorium for Research on Infrastructure and Cities (UKCRIC), DAFNI has funded hardware investment at each of its partner organisations.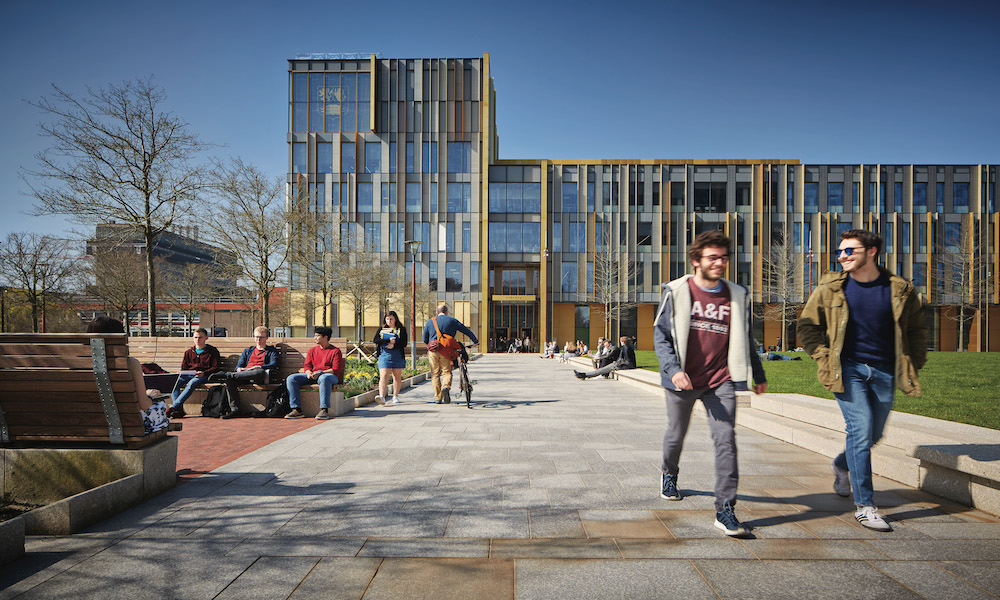 University of Birmingham
DAFNI funds High Performance Computing and visualisation kit for Digital Twins at National Buried Infrastructure Facility
DAFNI hardware funds have been spent on purchasing High Performance Computing, some visualisation equipment, including a set of VR goggles, and a large screen in the National Buried Infrastructure Facility's visualisation room.
National Buried Infrastructure Facility (NBIF) at the University of Birmingham is a 'one of a kind' facility spanning research, innovation, education, CPD and training in buried infrastructure-ground interaction. It is part of UKCRIC.
Dr Asaad Faramarzi, Associate Professor in Civil Engineering, explains: "We have a number of projects within NBIF – they always involve physical experiments but for the majority of them we now also have a digital twin model of them. I am leading the Digital Twins and computational modelling theme of NBIF, so I was particularly interested to be involved with DAFNI and to make the most of the hardware funding available."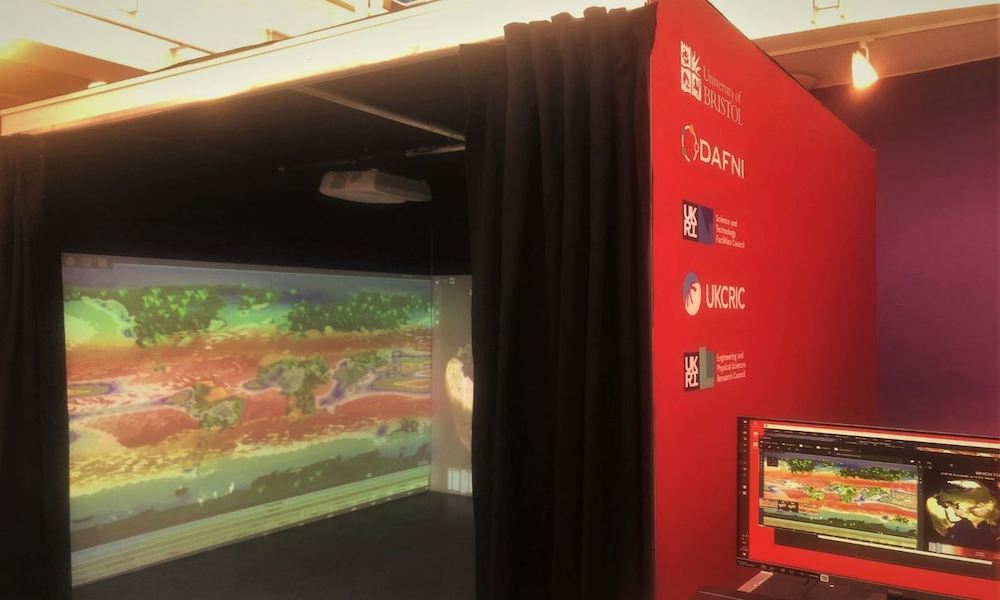 University of Bristol: a portable immersive data space for infrastructure visualisation
University of Bristol: a portable immersive data space for infrastructure visualisation
The University of Bristol has put the DAFNI hardware funds to good use to drive engagement work with schools around Bristol, researchers across the university and, soon local councils.
The immersive data space is being used by research groups including the Urban Vision Science Team, Jean Goulding Institute for Data Science, and the EPSRC Centre for Doctoral Training in Cyber Security.
Dr Patrick Tully explains, "A key part of our work is to generate lots of data about urban environments, the data is often difficult to display meaningfully without it being overwhelming.
"We're using the novel environment of the immersive space to drive engagement and encourage people to interact with the space in a more physical and interactive way than we might otherwise have done.
"We're actively encouraging other researchers at Bristol as well as external groups to engage with our new equipment as well."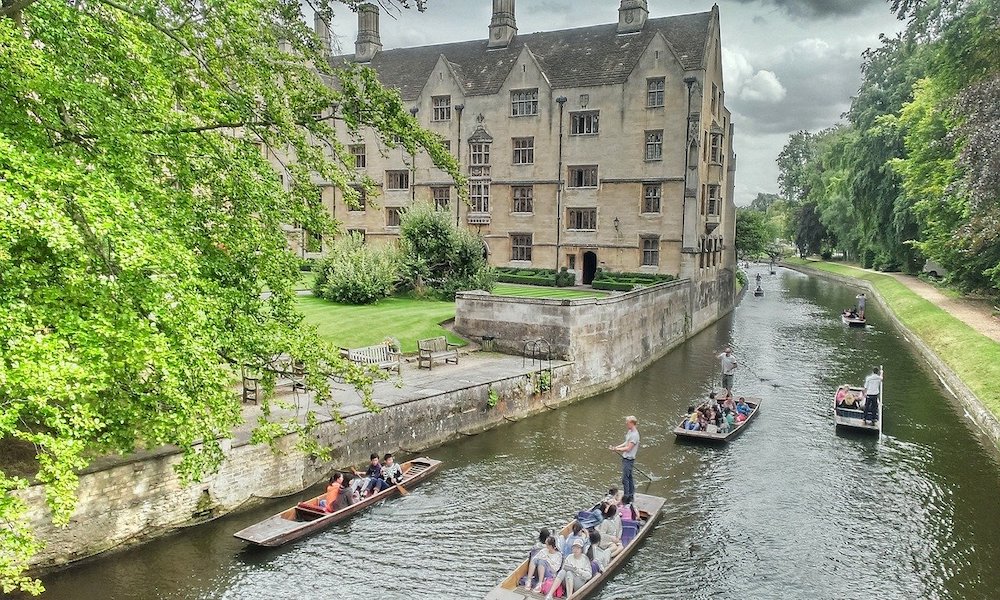 University of Cambridge
The Cambridge University DAFNI hardware has been used to setup the virtual reality systems across four departments. These virtual reality systems have been used in digital-twin research and education. We created digital twin of an asset or a structure through site visiting and scanning, then developed an immersive environment to simulate the construction and maintenance of the digital twin. The benefits for doing so are twofold. First, it brings digital twins to participant's hands where he/she overview the asset in an inclusive and immersive environment. Second, it improves the student's understanding of theoretical engineering concepts by demonstrating how an asset is built and maintained in a 3D model. The UK scale simulation models that have been developed under the Royal Society's RAMP programme by the Architecture and Land Economy teams have expanded the potentials for applications on DAFNI, once the hardware connections and software support are fully set up. This is expected to catalyse interdisciplinary research on digital-twin development and applications. One additional benefit of the equipment purchased has been the development of a much wider 'virtual network' than first planned, and this is particularly appreciated in light of the extended restrictions on physical mobility and meetings due to the Covid-19 pandemic. 
Full case study coming soon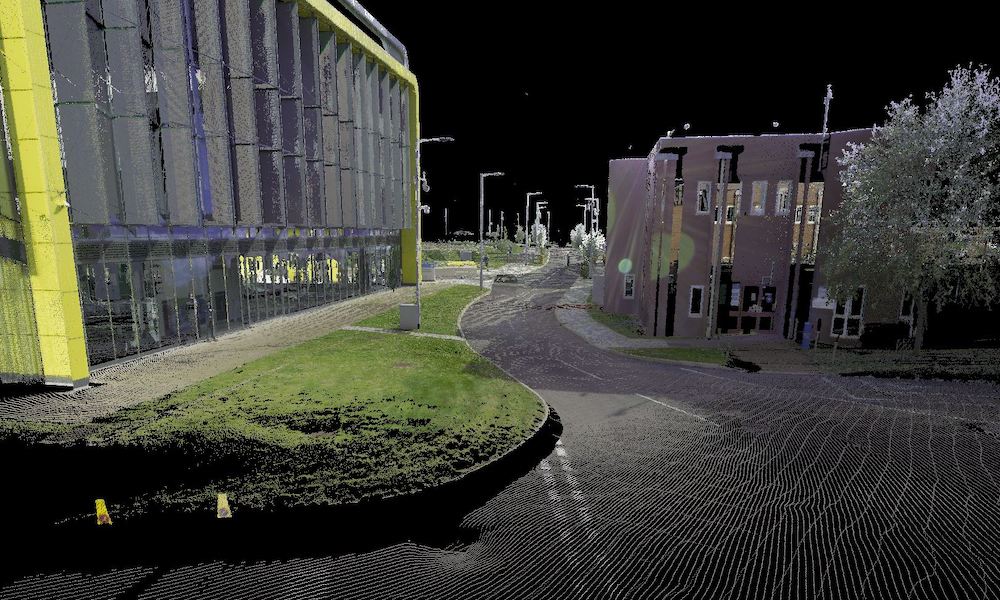 Cranfield University: Interactive shared experiences and collaboration using VR
University of Cranfield: interactive shared experiences and collaborations using VR
Cranfield University is driving shared collaborative research and shared experiences across universities and with stakeholder groups using equipment purchased with DAFNI's hardware fund. It is using the new equipment in the Living Laboratory, Urban Observatory and Digital Twins.
They plan to use the new virtual reality system wall mounted display screens and 3D terrestrial laser scanner to further collaborative research between members of UKCRIC and other universities. The university is also integrating the DAFNI platform itself (a focus for infrastructure data, modelling and collaboration tools) into the hardware project, using the DAFNI platform as the hub for receiving real-time data streams, acting as the database, and the driver for visualisations and workflows.
Professor Stephen Hallett, Chair in Applied Environmental Informatics in the Centre for Environmental and Agricultural Informatics at University of Cranfield explains, "DAFNI is an integral part of Digital Twin and environmental projects running at Cranfield and further afield."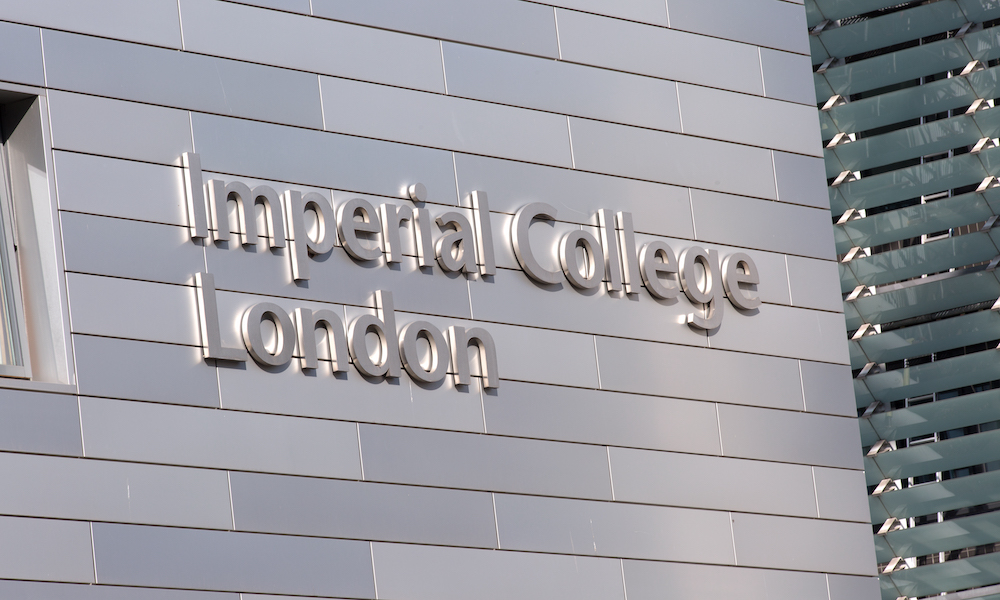 Imperial College London
Full case study coming soon!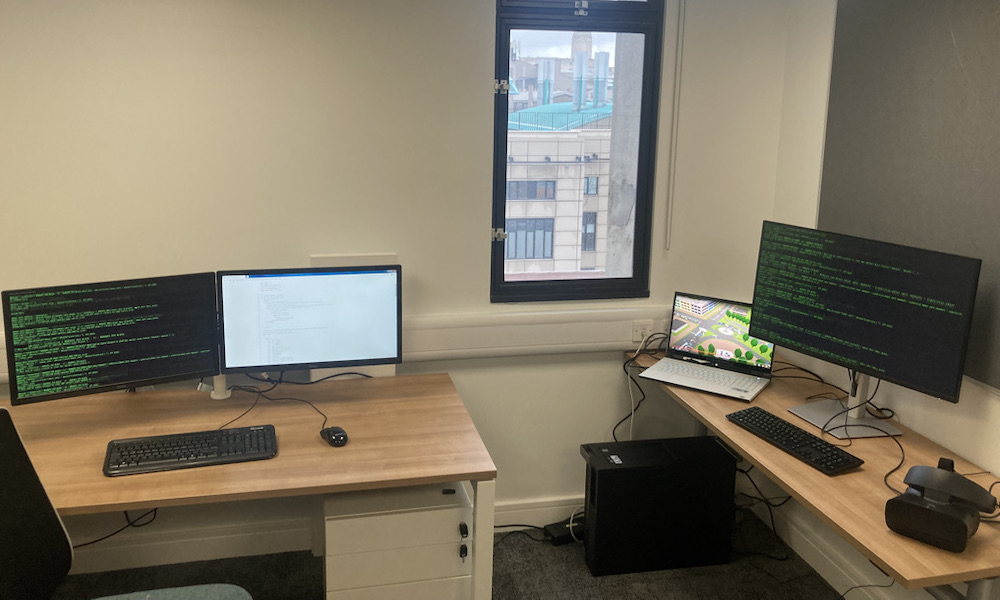 University of Leeds: building digital twins of social systems
University of Leeds: building digital twins of social systems
University of Leeds has put DAFNI hardware funds to innovative use in digital twin computer simulations, created with the hardware funded by DAFNI, to model social systems at a high resolution, both in terms of spatial scale and individual level attributes using techniques such as agent-based models and microsimulation.
Nik Lomax, Associate Professor of Data Analytics for Population Research, explains, "Within a digital twin which represents the social system, we can investigate hypothetical policy change by running counterfactual experiments and assess how these impact on individuals, groups and spatial areas.
"Building an augmented/ virtual reality world will help policymakers to make more informed decisions. The ability to take our research outside the university, to demonstrate the digital world to policymakers, means we will be able to better visualise scenarios and impacts."
He adds, "We're now able to carry out work that's more experimental without fear of blowing the budget."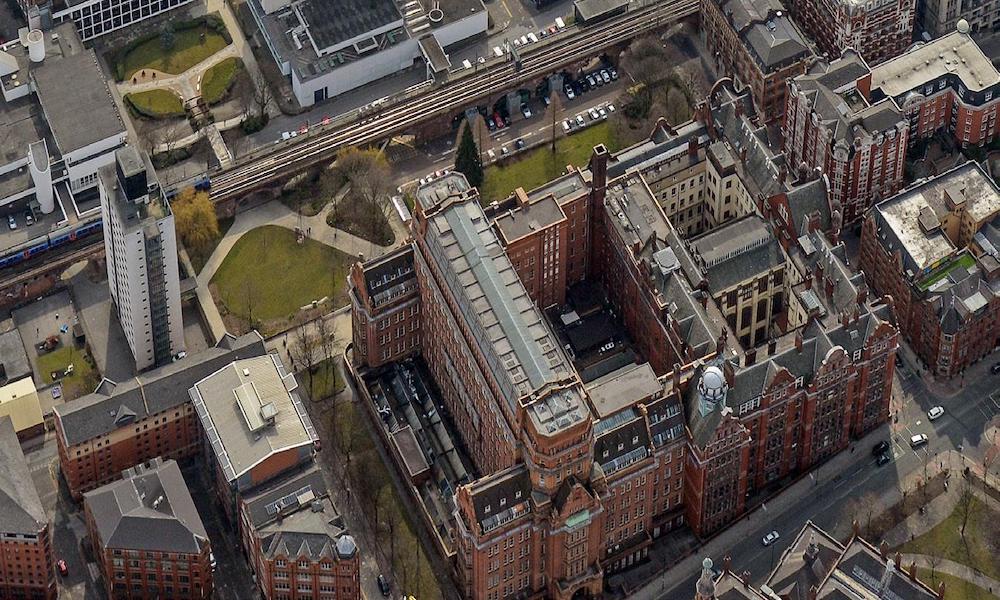 University of Manchester
At the University of Manchester we have installed three powerful servers (two DELL PowerEdge R740 servers and one DELL PowerEdge R340) for the research group to assemble, host and create datasets on infrastructure assets and networks and enable models simulations for a new research generation.
Our two high performance workstations (Asus Z490-A) will facilitate testing of cluster expansion, visualisation of large datasets, and GPU-based simulation and optimisation, whereas the 75'' TV (Viewsonic IFP7550-2EP 75″ 4K Ultra HD) allows an interactive touch screen and high resolution visualisations of simulation outputs. 
Full case study coming soon!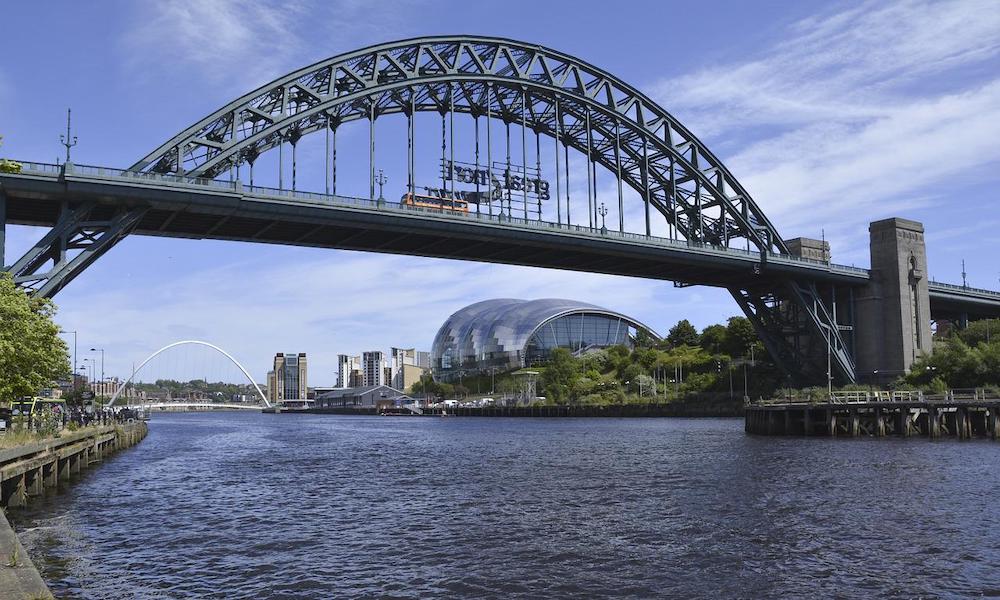 Newcastle University
DAFNI hardware boosts geospatial engineering research at Newcastle University
Dr Craig Robson
The new DAFNI-funded hardware is being put to good use by users in Newcastle's geospatial Centre for Doctoral Training and others in the university researching in geospatial and civil engineering fields working on a range of topics from hydrological modelling, to transport accessibility analysis.
Dr Craig Robson, School of Engineering, Newcastle University, is a lecturer within the Geospatial Engineering group, a member of the Tyndall Centre for Climate Change, Co-Investigator on the OpenCLIM project, and a DAFNI champion. He says, "The new desktop machines will enable PhD students to test and hone their models before deploying them onto DAFNI, the new machines are also available to others in the university researching in geospatial and civil engineering fields working on a range of topics from hydrological modelling, to transport accessibility analysis."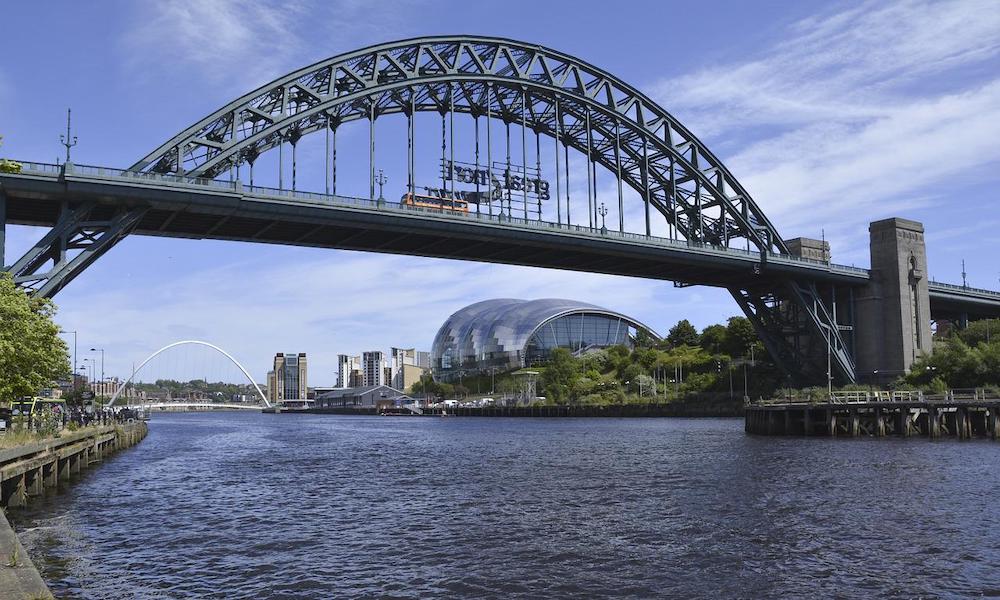 Newcastle University
DAFNI hardware boosts Covid transmission research at Newcastle National Urban Observatory
Phil James
DAFNI hardware is a key component of Newcastle National Urban Observatory's work with the Transport Risk Assessment for Covid Knowledge project which seeks to better understand and model disease transmission on public transport.
Phil James, Director National Urban Observatory Facility Newcastle, School of Engineering, Newcastle University explains: "Science takes a long time but Covid happened very quickly, so rather than trying to find immediate answers around transmission risk, the TRACK project will help us to better prepare for the next pandemic and to provide advice to give transport operators for the future.
"Having the GPUs funded by the DAFNI monies enables us to do more research faster, as it increases our ability to process video. The new GPUs bring us a distinct escalation in terms of speed and scalability and allows us to use our own dedicated servers rather than relying on expensive cloud computing options."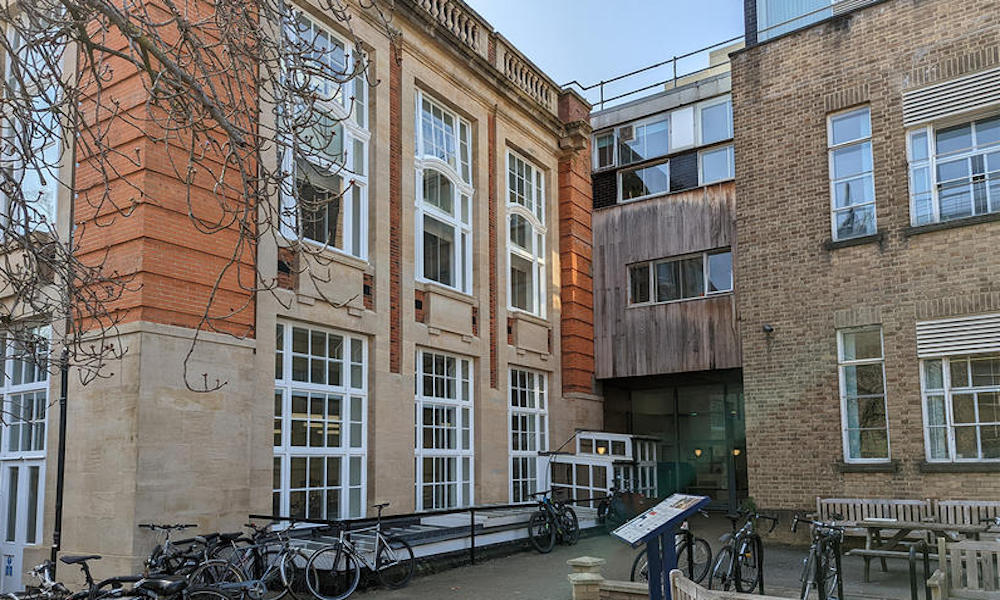 University of Oxford
National water modelling propelled by DAFNI hardware infusion
The purchase of DAFNI-funded hardware is enabling the Oxford Programme for Sustainable Infrastructure Systems (OPSIS) at University of Oxford to visualise modelling results, including satellite imagery and future scenarios, at very high resolution. The Water Resource Model of England and Wales (WREW) is one of the projects using the DAFNI platform and DAFNI hardware to model water infrastructure and water policies at country level for the first time.
Professor Jim Hall leads OPSIS, and explains, "At OPSIS we aim to improve decision-making by providing evidence and tools to analyse infrastructure systems' resilience, explore possible futures and plot out pathways to sustainability. The new visualisation equipment funded by DAFNI helps us to scrutinise the results and communicate them to our research partners and within the group." 
In addition to use by OPSIS, the room will also be made available for use by other research groups in the Environmental Change Institute at University of Oxford, for interactive decision-making sessions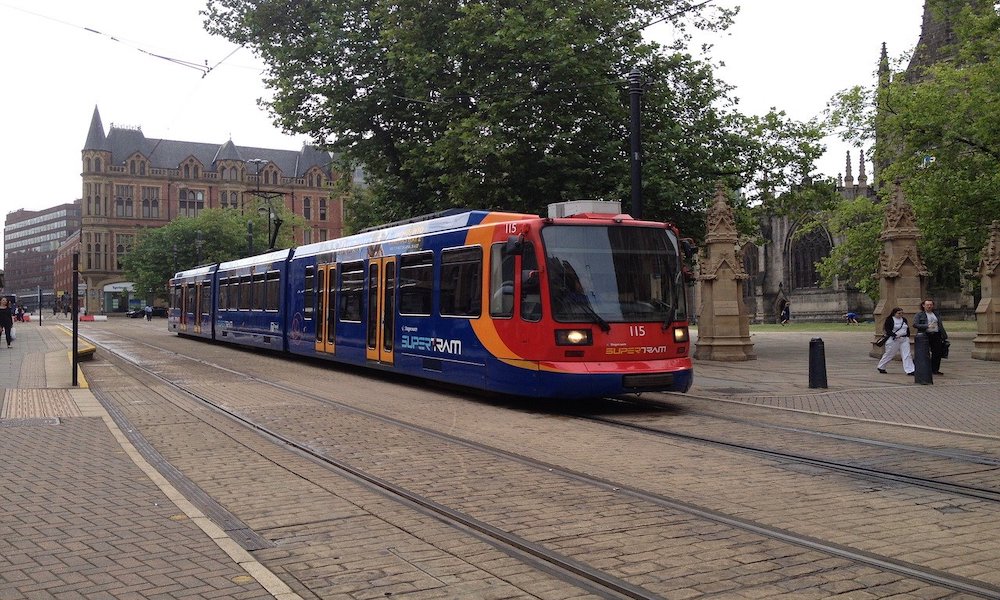 University of Sheffield
DAFNI hardware underpins University of Sheffield Traffic Digital Twin
A grant from the Data & Analytics Facility for National Infrastructure (DAFNI) has allowed the Complex Systems and Signal Processing research group at University of Sheffield to purchase GPUs and other equipment to help it develop a Traffic Digital Twin.
The high performance computing hardware is used to run simulations for large scale complex systems, solve computationally intensive multi-objective optimisation problems, as well as to train very large machine learning models that continuously learn from incoming data the traffic patterns to produce more precise traffic forecasts. 
The University of Southampton: immersive virtual reality
The University of Southampton: immersive virtual reality
The University of Southampton is using equipment purchased with the DAFNI hardware funds in a "VR cave" to try out scenarios and model human behaviour in a way that simply would not be safe to do in real-world situations.
The VR cave is being used to research the impact of drone use on provision of health services in the UK; to model and visualise very detailed aspects of driving behaviour; and to model a more friendly road infrastructure for pedestrians and cyclists.
Ben Waterson, Associate Professor in Transportation says, "Our next project is focused on pure visualisation and will use a large touch-sensitive table with multi-point control, also funded by the DAFNI hardware monies. Rather than having a keyboard or mouse we will have a giant map on the table for people to interact with it and the information will appear on the walls of the VR cave."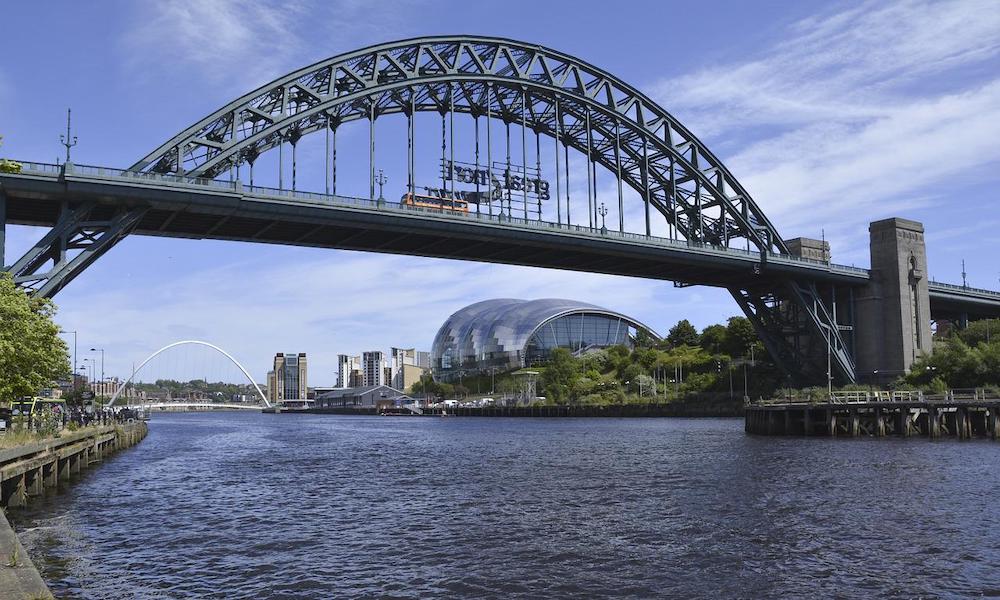 University College London CASA
CASA uses DAFNI hardware monies to take research in projects involving large quantities of data and model runs to the next level
The Centre for Advanced Spatial Analysis: CASA's focus is to be at the forefront of what is one of the grand challenges of 21st century science: to build a science of cities from a multidisciplinary base, drawing on cutting edge methods, and ideas in modelling, complexity, visualisation and computation.
The DAFNI hardware monies were used to purchase a number of servers and high performance computers as well as headsets and GPU hardware to take research in projects involving large quantities of data and model runs to the next level.
Richard Milton, Senior Research Associate, CASA, UCL, explains, "One project where the new hardware was immediately put to good use is the QUANT project, which is funded by the Alan Turing Institute. Typical QUANT scenarios involve predicting residential demand following the construction of a 3rd runway at Heathrow, or the effect on travel time of a project like High Speed 2 or Crossrail."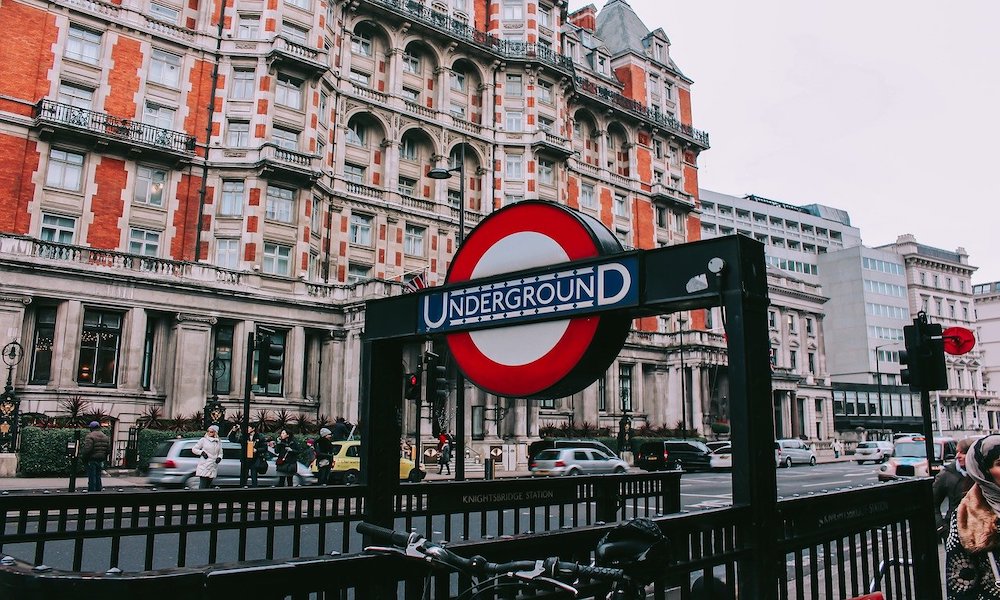 University College London
DAFNI funds UCL's dedicated HPC hardware for the Infrastructure Systems Institute
The DAFNI hardware fund has allowed UCL to add considerable computing power to its Infrastructure Systems Institute. The high-performance computers are proving invaluable for testing and honing models prior to uploading to the DAFNI platform, for using Docker imaging software, and other DAFNI services such as workflows and visualisations.
Liz Varga, Professor of Complex Systems at the Infrastructure Systems Institute in the Department of Civil, Environmental & Geomatic Engineering at UCL explains how over 25 people in the Infrastructure Systems Institute, including post docs, lecturers, doctoral students, and professors can now run models much more quickly than previously for their research in areas such as sustainability, resilience, and productivity in infrastructure and cities. This can involve using the computing power in areas such as developing discrete choice models, and activity-based modelling. More work is also planned on Digital Twins using the DAFNI hardware.