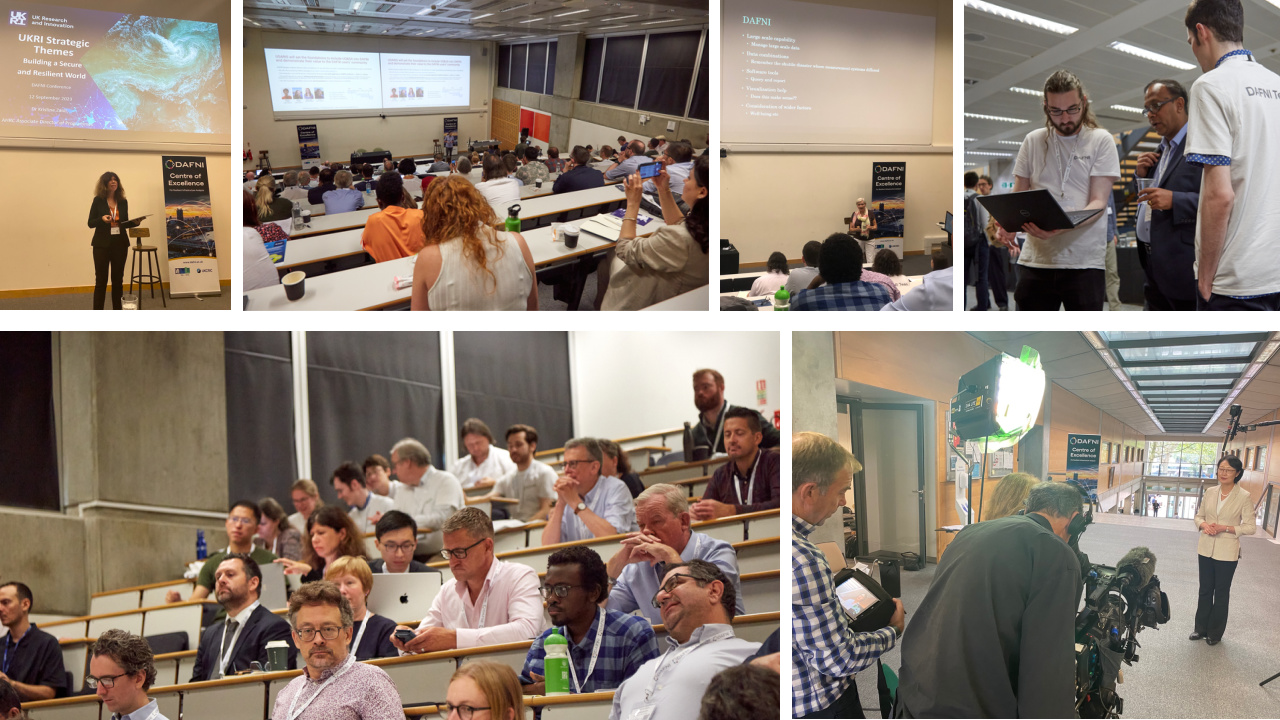 DAFNI Newsletter, 22nd September 2023
DAFNI CONFERENCE 2023 FOCUSES ON BUILDING RESILIENCE
At this year's DAFNI Conference on 12th September 2023, we welcomed over 100 in-person delegates to Imperial College, London for the day.
The conference theme of 'Building a Secure and Resilient World' highlighted the importance of the new Centre of Excellence for Resilient Infrastructure Analysis, as well as the pivotal role of the Data & Analytics for National Infrastructure (DAFNI) platform in climate-related and infrastructure projects.
The Centre of Excellence fosters research in resilience in the natural and built environment as part of the overarching UKRI programme 'Building a Secure and Resilient World' (BSRW), a 5-year programme which seeks to tap the UK's research and innovation system to tackle large-scale, complex challenges for the UK.
Chair of the conference, Dr Giuliano Punzo, is a member of DAFNI's Governance & Executive Board, as well as a Lecturer at University of Sheffield; and Director of the Sheffield Urban Flows Observatory expertly chaired the conference.
The first keynote was delivered by Bridget Rosewell CBE, Non-Executive Director at the UK Infrastructure Bank and formerly Commissioner of the National Infrastructure Commission. In Bridget's talk "DAFNI to improve capacity & resilience of infrastructure systems", she discussed combatting fragmented systems and disconnects, and highlighted the potential of digital twins.
"Information needs to lead to insight, and to be linked to creative decision making," she said. "We need to leap from the 19th to the 21st century."
Dr Brian Matthews, DAFNI Facility Lead, Scientific Computing, STFC, introduced the DAFNI platform, explaining that "The inspiration behind DAFNI is the observation that models supporting infrastructure development often don't scale up or last. DAFNI is a platform that gives them more computing power."
"The new Centre of Excellence for Resilient Infrastructure Analysis will strengthen resilience in the natural & built environment," added Brian. "It's a Centre of Excellence and offers expertise and capacity to support computational modelling of resilience challenges."
Dr Bethan Perkins, DAFNI Team Lead, STFC, gave a technical update and overview of DAFNI, explaining past and current projects to improve the platform. She said, "A host of improvements include a major UI overhaul on workflows, bulk downloads are now available. We're now focusing on scaling up, data services, research legacy and simplifying use."
Dr Kristine Zaidi, Associate Director of Programmes, UKRI AHRC, highlighted that the Centre of Excellence for Resilient Infrastructure Analysis is the first investment in the UKRI Building a Secure and Resilient World programme, designed to tackle complex challenges, and part of UKRI's 5 year 'Transforming Tomorrow Together' strategy. She introduced the BSRW's five strategic themes and said, "Through the themes, we are taking a human-centric approach to risks and solutions. The outcome is more resilient societies."
The next speakers were four of the eight grant holders from the Centre of Excellence.
Dr Ana Mijic, Reader in Water Systems Engineering and Innovation, Imperial College London, spoke on the "Resilience Scenarios for Integrated Water Systems – RIWS" project where her team will research water challenges from drought to sewage spills and good ecological status, to address the interlinked challenges of water systems and the environment. She explained, "We have a tool that simulates the water system. It's important to have a comprehensive picture of the performance of the system."
Professor Richard Dawson, Professor of Earth Systems Engineering and Director of Research in the School of Engineering, Newcastle University, introduced his project: "An agent-based model of Flood Infrastructure Resilience – FIRM". He discussed how it will inform better decision making across Great Britain & potentially overseas. "By running simulations, we can understand the impacts and features of resilience," he said.
Dr Francesca Pianosi, Senior Lecturer in Water and Environmental Engineering, School of Civil, Aerospace and Design Engineering, University of Bristol introduced her project "Uncertainty quantification and Sensitivity Analysis for Resilient Infrastructure Systems – USARIS". She highlighted that "The challenges of simulation should be possible to overcome because there are functionalities in DAFNI that allow for it."
Dr Raghav Pant, Senior Associate at the Environmental Change Institute, University of Oxford, talked about his project "Building systemic resilience of interdependent infrastructure networks at national scale – NIRD" which aims to develop stress testing for systems like energy and water. He hopes that the framework will tackle the lack of understanding of interdependencies and cascading failures, and can test realistic resilience options, incorporating hazards and new datasets to enhance models.
Our second keynote speaker, Dr Wei Yang, Co-Founder & CEO, Digital Task Force for Planning; Chairman, Wei Yang & Partners, spoke on "Spatial planning reimagined" and explained her goal to capture and preserve knowledge for future researchers to access and learn from what has been done in the past. She wants to create an ecosystem that connects multiple disciplines, linking research to practice.
Dr Wei Yang said, "The more we can use DAFNI to share best practice & research outcomes to a wider network, the better. We need a stronger ecosystem between research and practice."
Russell Price from the International Standards Organization talked about "Standards in Practice – embedding Resilience in Infrastructure." ISO is the world's largest publisher of international standards. Russell said, "Resilience means different things to different people. This is what ISO solves." He added, "Working on complex issues that require nuanced solutions – welcome to the world of risk & resilience!"
We then heard from the final four grant holders from the Centre of Excellence.
Dr Xilin Xia, Assistant Professor in Resilience Engineering, School of Engineering, University of Birmingham, introduced his project "Strategies and Tools for Resilience of different types of Buried Infrastructure to Meteorological Shocks – STORMS".
Xilin said, "The impacts of flooding can be both short and long term. We have five work packages for hydrological modelling that will fit into various climate scenarios."
Dr Asaad Faramarzi, Associate Professor in Civil Engineering in the School of Engineering at University of Birmingham, said on Twitter, "The STORMS project will introduce a step change in capturing the impact of climate change on our buried infrastructure through enhanced computer simulations and data analysis."
Dr Anna Murgatroyd, Postdoctoral Researcher at the Environmental Change Institute, University of Oxford, spoke on her project "Pywr-WREW, developing an open source Water Resources model for England and Wales built in Python". Anna said, "We are rebuilding our model in open source language hosted by DAFNI. This will let us easily engage with stakeholders and companies."
Dr Vassilis Glenis, Senior Lecturer in Hydroinformatics, School of Engineering, Newcastle University, introduced the "Sewer Overflow Flood Risk Analysis MOdel Dafni Enabled – SOFRAMODE" where he'll create a modelling system to quantify flood risk, simulate urban drainage in UK cities and test a range of mitigation strategies including blue green mitigation features and locations.
Dr Richard Milton, Senior Researcher, Centre for Advanced Spatial Analysis, UCL, spoke on "Changes and Computer-Generated Spatial Interaction Modelling with QUANT – SCQUAIR", his work will identify the impact of changes to passenger services on work locations and carbon outputs.
The day concluded with a panel session of questions for Dr Giuliano Punzo, Dr Wei Yang, Russell Price and Dr Brian Matthews, followed by closing remarks from Brian Matthews.
On Twitter, Jeremy Morley, Chief Geospatial Scientist at Ordnance Survey commented, "Today I'm at the DAFNI annual conference. Great stuff building on a computing platform for shared infrastructure modelling!"
While UKCRIC on Twitter commented, "Inspiring keynote from Bridget Rosewell at the DAFNI Annual Conference on the need for collaborative data sets and how the DAFNI Facility super computing power can support collaborative model-based research on national infrastructure challenges."
Find out more about DAFNI, visit www.dafni.ac.uk
The PowerPoint presentations are now available at: https://www.dafni.ac.uk/dafni-post-conference-updates-2023/
The videos from the day will be released shortly.
DAFNI technical training
A great opportunity to get up to speed quickly on DAFNI and to ask our technical experts your burning questions.  Our regular technical training events on DAFNI are available to book via Eventbrite.
22 November 2023

24 January 2024
To attend the event you will need experience of entering code through a command line interface, for more information and to book, please visit: https://www.eventbrite.co.uk/o/dafni-31793198351
 To request your account, please go to the DAFNI website and complete the short questionnaire:
About DAFNI
DAFNI was originally funded by an £8 million EPSRC investment in the UK Collaboratorium for Research in Infrastructure and Cities (UKCRIC) and a £1.2m grant under EPSRC's Resource Only Strategic Equipment. Its aim has been to become the national platform to satisfy the computational needs in support of data analysis, infrastructure modelling and visualisation, and encourage whole-system thinking for the UK's infrastructure research needs.
In March 2023 UKRI awarded £4m to STFC Scientific Computing to establish a national Centre of Excellence for Resilient Infrastructure Analysis, and move the Data & Analytics Facility for National Infrastructure (DAFNI) into its new phase.
Today, the platform supports research that aims to provide the UK with a world-leading infrastructure system that is more integrated, efficient, powerful, reliable, resilient and affordable. It is enabling the community to conduct research that is able to generate new insights at a higher level of detail and accuracy than ever before.
To find out more about DAFNI, visit: www.dafni.ac.uk​