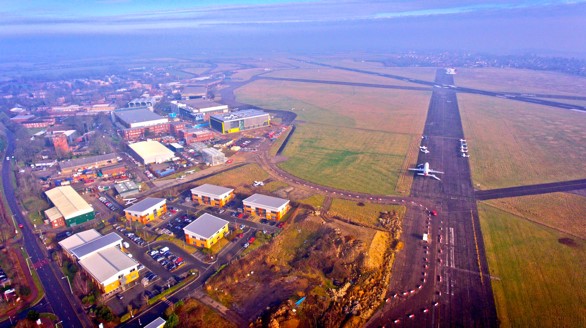 Simon is based at Cranfield University, in the School of Water, Energy and Environment. Within that theme he's based in the Centre for Environmental and Agri-informatics where he leads a group focusing on risk and decision making. Unusually, his group takes a trans-disciplinary approach to work across a number of fields. Simon himself is originally a geographer and now fast becoming an engineer who looks at research challenges from a systems-led perspective.
The work he's most interested in is around the interface between environment, infrastructure and society; and how to better understand how these systems currently work, the decision-making challenges they pose, and how to develop new approaches to understand them and make better decisions. This involves spanning social sciences, working with modellers and employing a range of tools and techniques.
Projects that Simon is working on include one working with 11 international water utilities and looking at their resilience challenges.
Simon leads the Cranfield Urban Observatory where his big vision is how to better understand urban and infrastructure systems and then create interventions, run interventions at scale, create more resilient and liveable systems, and how to use data and models to help decision-makers make better decisions.
His work clusters around complex urban systems and infrastructure behaviour and threats, and he also helps to lead a Centre for Doctoral Training on environmental risk and big data.
Cranfield is unique in that it's the only post graduate university in the UK, so it's very research focused and does a lot of work with industry.
The University's UKCRIC-funded Urban Observatory is also somewhat unusual in that it's in a rural location and is a self-contained microcosm of a city with its own airport, and infrastructure, including water treatment plant and solar farm, for example.
Simon's work as a DAFNI Champion includes outreach to engage with other researchers across the university, encouraging researchers in areas such as environmental and agri-informatics, water science, buried infrastructure, and the new Digital Aviation Research and Technology Centre (DARTeC) to work with DAFNI.
The 2020 Challenge Week for the DREAM (Data, Risk and Environmental Analytical Methods) Centre for Doctoral Training will focus on big data and using DAFNI to power their research.
His Champion activity is also looking at how DAFNI could be used by the Urban Observatories across the UK and ensuring that developments proceed using a collaborative approach. For example, the six Urban Observatories are currently developing common data structures and APIs, and there are potential opportunities to start to jointly develop one system that could sit on DAFNI, to avoid a multi-pronged approach.
One of the key features of Urban Observatory data is the usefulness of live, streamed data, which DAFNI doesn't currently ingest easily, and Simon's also working with other Urban Observatory colleagues and DAFNI software engineers to find a better way for DAFNI to absorb and access that real time data. Once it's possible to link up Urban Observatories with real time data, the full output from their sensors can be utilised and the next phase will be to took at how to further link them and to develop tools and techniques like digital twins.
At Cranfield the Urban Observatory team are working on deploying sensors throughout the whole campus, and this includes sensors to monitor water levels and quality, bacteria in the water treatment works, and sensors throughout the UKCRIC National Research Facility for Water and Wastewater Treatment pilot hall for clean water and another for dirty water. They will be installing 100 sensors in the pilot hall alone, then looking at greater collaboration, for example how to take data from the Urban Observatory and the pilot hall, to link it together and then to use DAFNI to collaborate with other researchers and see what's going on within the system.
The DAFNI visualisations and equipment will be invaluable in making the data come alive to help people make better decisions, adds Simon. DAFNI's high performance computing power will also allow research colleagues to move their projects to a new level, in fact he's already connected some of his colleagues with DAFNI and they will soon be using DAFNI's GPU hardware to speed up their processing.
Explaining why he bid to become a DAFNI Champion, Simon explains that the DAFNI platform needs users and data; it can help to unleash the potential around Urban Observatories which have all been developing separate platforms. DAFNI has the potential to be an overarching platform and to ingest real time data and link that to the National Infrastructure Systems Model (NISMOD) as it develops on DAFNI.
Interested in collaborating with DAFNI?
If you would be interested in using DAFNI, would like to access Data on DAFNI or involve us in a new project, we would like to hear from you.  Please complete your details on the contact form using the link and we will be in contact with you by email.