Overview of the Project
The Data & Analytics Facility for National Infrastructure (DAFNI) aims to provide users with access to data, models and compute resources to allow integrated infrastructure analysis. The design of this is influenced through the engagement with Pilot Projects and therefore DAFNI's community are helping to shape it as the next National Infrastructure Research Facility.
Communication networks are an essential part of the UK's national infrastructure, and the UK government is committed to becoming a leader in 5G mobile technology. The move to 5G is a key part of the UK's industrial strategy, enabling businesses and government to take advantage of the wider economic benefits which improved productivity could bring via enhanced connectivity. DAFNI aims to support models such as this in addressing the urgent need to understand the reality of what infrastructure such as 5G will look like, now and into the future.
The Infrastructure Transitions Research Consortium (ITRC) and Digital Catapult are working together to develop an open-source software tool for both mobile and fixed networks to assess digital infrastructure strategies. These models use data from a range of sources, including population forecasts, system capacities, coverage and data demands, and budget constraints, to test the performance of different strategies for the delivery of 5G and Fibre-To-The-Premises (FTTP). The outcomes of which can be used to inform government decision-making, as well as for businesses looking toward the future. Integrations of these models presented an interesting trial for DAFNI to understand how to build a generic framework which could support the execution of multiple models at the same time onto the facility and collate the required datasets within their licence constraints. The DAFNI team provided a software engineering solution to improve efficiencies for the models in terms of run time, automating both the user input interface and visualisation of results so opening up the possibility for the models to be used by non-technical experts.
Dr Edward Oughton, from the Environmental Change Institute, University of Oxford said "few tools exist to help quantify the performance of different digital infrastructure strategies for either 5G or rolling out fibre to the premises", "hosting this model on the DAFNI facility means it can be utilised by non-technical users, unlike the limited number of engineering models that exist currently."
Challenges addressed by DAFNI
During this pilot project the main challenges which DAFNI addressed were:
building a system from scratch which is generic enough to be used for future models and within a cloud based platform.
developing a user interface, as there was no pre-existing one for this model, that can be easily accessible to all.
providing a visualisation ability which allows the data to be displayed on a map for users to interactively explore information on 200,000 mobile towers, located within local authority boundaries, including their locations and the data available on each.
scaling up the model to address 5G capacity throughout the UK, whilst also improving the model build so that run time is not compromised.
Project Outcomes
During this pilot project the following benefits have been realised:
The mobile digital communication model is now available on DAFNI and has opened it up to possibility that it can be used by non-technical experts.
DAFNI has provided an automated visualisation tool which allows for both geographical results and 2D graphs which can be adapted for other Pilot projects.
Creation of a system that can be used by multiple users at the same time running many scenarios of the same model.
Digital Communications Models: Mobile 5G and Fixed Broadband Network
The link will open a PDF document
Principal Investigators and Lead Researchers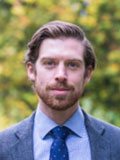 Dr Ed Oughton
Environmental Change Institute, University of Oxford